Elettro has inherited an important experience dating to 1935. In 1935 Eng. Ettore Kerbaker came back to Italy after a long experience in Westinghouse U.S.A. and built up in Milan the S.A.R.M. company (Società Anonima Raddrizzatori Metallici), where the first Italian production of selenium rectifier started.
After the war and the reconstruction of our country, during the years of the Italian economic boom, Eng. Kerbaker retired, leaving the company to two young co-worker technicians: Mr. Emilio Pizzola and Mr. Antonio Saiani. The company became RAMET (Raddrizzatori Metallici Saiani e Pizzola), starting also the production of AC equipment and feeders for cathodic protection. In the first middle of '70s RAMET started the UPS production. The first customer, with more than two hundred UPS installed, was the Italian motorways' company (Società Autostrade SpA). In 1983 RAMET produced the first in the whole Europe UPS with transistor technology. During the '90s Elettro Services & Equipment took over the RAMET brands, its technical documentation and all the products know-how, giving continuity to this long experience, above all in the service field.
The

evolution

of UPS Ramet technology during the last 40 years
Late '70s. Tyristor UPS – Power module
Late '70s. Tyristor UPS – Control logic rack
1983. Transistor UPS – Power module 15kVA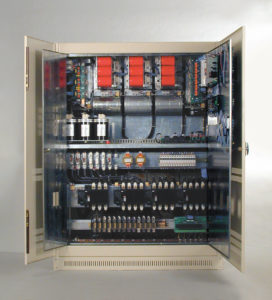 Late '90s. IGBT UPS 120kVA
All this experience and know-how on UPS and Rectifiers is now at your disposal. Elettro is the right consultant when you have to insert in your plant  a DC or AC power continuity equipment and then to buy, to install and service it.