UPS
CUSTOM
ESE-UPS   AC POWER FOR  INDUSTRY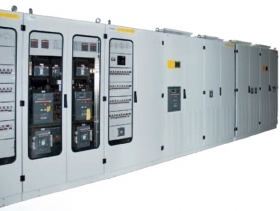 ESE-UPS : custom equipment for Oil & Gas sector and all industrial environments.
MAIN FEATURES
Input and output galvanic insulation
DC battery with 55 or 110 cells (110Vdc, 220Vdc)
Clean and stable DC on battery (ripple voltage <1%)
Pure VFI-SS-III output sinusoid wave (IEC/CEI EN 62040 standards)
Redundant fan system with temperature and air flow control
5 automatic battery charge modes
Manual charging mode for flooded batteries
Adjustable thresholds for times and alarms
Temperature compensation on charging voltage to extend the battery life
HMI screen display with mimic diagram
Double microprocessor control (DSP + PLD) for rectifier and inverter, ensuring maximum reliability
Full optical insulation on all the logic and interface cards
Modbus communication interface through RS232 or RS485 Port and Ethernet connectivity
This UPS line suits the most demanding industrial environments such as: Oil & Gas, chemical and petrochemical, continuous production processes and controls in industrial applications.
The ESE series, from 5 to 120kVA, is an ON-LINE double conversion product, with galvanic insulation transformers, both in input and output.
The loads are supplied by a filtered, stabilized and regulated sine wave, while EMI filters in input and output protect the load against any surges.
The UPS is equipped with a backlight, graphic color, HMI display, giving UPS's measures, alarms and status in different languages.
The power units are designed with IGBT techno­logy and PWM modulation, obtaining a pure sinusoidal wave in output, as required by the strictest Oil & Gas standards.
Thanks to components sizing, the Inverter can reach high efficiency levels even with 110Vdc or 220Vdc batteries.
Two digital microprocessor logics (DSP+PLD), on rectifier and inverter separately, ensure the maximum reliability level in all plant contexts.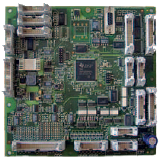 Soft start is available on both AC and DC sides. You can choose different alarms with voltage-free contacts. Furthermore a graphical, touch screen display, shows measurements, alarms and UPS status. The digital inputs can be setted according to specific customer needs.
The ESE-UPS can be installed in any distribution system (the neutral is not necessarily required). All systems have a static switch, not a cheap electro-mechanical contactor, as used by other manufactures.
Redundant ventilation is also available. The reduced ventilation (provided only on commutation assembly), the air filters and the heating resistors, enable this UPS to operate inside dusty, humid and saline environment.
The power range is:

EASY MAINTENANCE
Thanks to its lay-out, this UPS line allows direct access to each component and requires easy maintenance.
The microprocessors don't limit maintenance and control operations. On the contrary, Elettro provides training courses for maintenance teams to share all the technical knowledge necessary for UPS control. The ESE-UPS is the right choice which joins a high quality product and the full control of post-sales costs.
BATTERY CARE
Taking care of batteries is another Elettro's commitment: the battery is the emergency key, its protection is essential. So, each ESE-UPS includes:
– a flattering filter on rectifier output which provides a very low (<1%) ripple to batteries;
– more levels of battery charge, optimizing the charging current and reducing the  recharge time;
– the Manual Charging Mode for the commissioning of any battery type;
– a deep discharge protection and charging voltage compensation according to the temperature.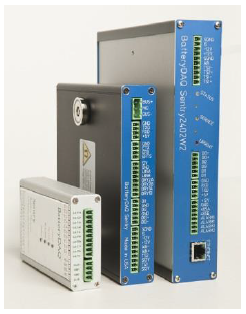 ESE-UPS can work with all battery typologies and can be delivered with SMART Battery Monitoring unit.
It is an industrial customizable product. It can be realized in different system configurations and adding many possible options. Send your technical specification. Elettro is at your disposal, providing detailed documents about UPS electrical lay-out, block diagrams and component specifications.
The ESE  line is realized also in the VEGA version.